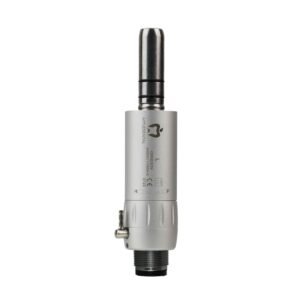 Highlights:
Design Extra-light & Powerful.

 Motion 360° rotation of the contra-angle handpiece on the motor.

 Rust Free Corrosion Resistant.
Disinfection Autoclavable. Product Description Low speed hand piece with E-type air motor Forward and reverse operations 500 – 25,000 rpm High torque with smooth start- up Compatible with any attachment (KAVO, NSK, W&H, etc.) Features :Highly durable Excellent efficiency Robust construction Autoclavable at 1340 for 20 min.