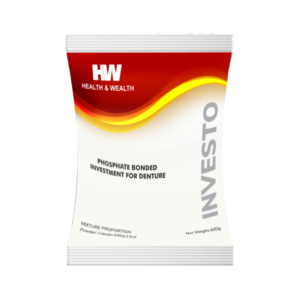 Highlights:
H&W Investment Material (20kg Powder + 3Ltr Special liquid)
H&W Phosphate- Bonded Investment is a fine grain phosphate investment, which mainly used for partial-dentures, framework, dental holder, bridges and Co-Cr Alloy Casting
Features :-
Have a Fine Particle Size to give smooth surface on the casting.
Easily manipulated with enough working time.
Have Enough strength at room temperature to permit ease in handling.
Have enough strength at higher temp. to withstand impact force of the molten metal.
Break away easily from the surface of the metal With stand high temperature without decomposing time Key.